CFCC 2019 Autumn Open & Scholastic
CFCC wishes to congratulate Orlando's Ryan Hamley (2196) for his clear 1st place win in our 2019 Autumn Open & Scholastic held at the Wyndham Orlando Resort and Convention Center on International Drive.
2019 Autumn Open & Scholastic Slideshow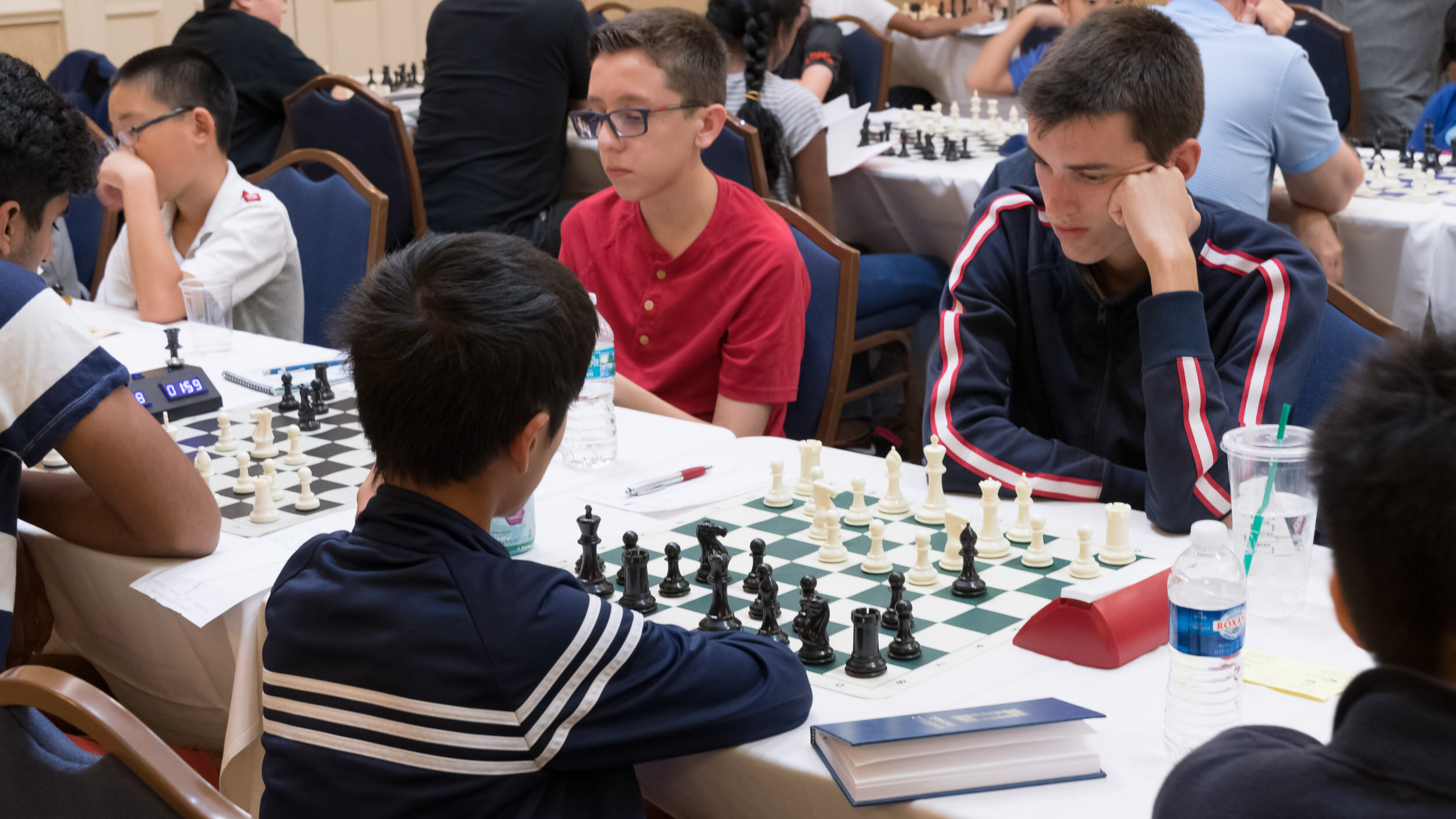 2019 Autumn Open & Scholastic Recap
Written by USCF Senior TD Steven Vigil
The 2019 Autumn Open was held September 13-15. The event was held at the Wyndham Orlando Hotel on International Drive, a familiar venue to central Florida chess players, where many recent tournaments have been held. A sizable turnout of 147 players competed in the the 5-round event, which featured the option of a 3 day or a shortened 2 day schedule. The tournament had five sections: Premier, U2000, U1700, U1400 and U1200/Scholastic and over $7,300 in prizes were paid out.
Premier Section
The top Premier section was highly competitive. Congratulations to Ryan Hamley (2126), who finished undefeated with a score of 4 points to win clear first place in the section and $833. Going into the final round, Ryan was tied for first place with Bach Ngo (2165) and Han Schut (2264). Ryan would go on to win his final round game, while Bach and Han would draw their 5th round matchup and finish in a group of 4 players with 3.5 points who all tied for 2nd place and won $229 each.
This also included FM Steven Stoyko (2213) and Alex Sinnot (2051). Congratulations to the 4 players all of whom went undefeated, except for Bach, who would lose his first round game, and then rally to score 3 wins, the only other player to do so besides overall tournament winner Ryan Hamley.
U2000 Section
Congratulations to Arnold Banner (1946) who topped a field of 29 players and captured first place in the U2000 section along with a prize check for $750. Arnold finished with an impressive 4.5 points. His only draw was against to Gary Cote (1800) in the fourth round. Gary and Dylan Yu (1690), were the only other undefeated players in the section. Their 4 point finish put them in a 4 way tie for 2nd-4th place with Luis Ares (1998) and Ahan Mishra (1696), who also finished with 4 points. Each of them collected $229 for their efforts.
U1700 Section
The U1700 section also had a field of 29 players. Congratulations to Richard Brent (1462) who finished with 4.5 points and won clear first place and $750. Richard was also the only undefeated player in the entire section. His only draw was against James Beltran (1656) in the 4th round.

With a score of 4 points, Paul Leggett (1666) and John Surlow (1688) shared 2nd/3rd place honors and each took home a check for $375. Each of their only losses would come at the hands of section champ, Richard Brent. James Beltran, Colby Ferraro (1656) and Lane Chin (1642) all finished with 3.5 points putting them in a tie for 4th place. It was good enough to earn them each $56 in a hard fought section.
U1400 Section
With only 21 competitors, the U1400 was the smallest section in the tournament; an honor that usually goes to the Premier section. This gave players better odds at the over $1400 in prizes to be awarded for their section. Congrats to Ryan Putney (1287) who emerged the champ with 4.5 points winning him $667. Scoring 4 points with two draws, Aaryman Vijaywargi (1220) was the only other undefeated player in the section. His 4 points tied him with Soham Shirode (1287) for 2nd/3rd place and $292 each. Doug Bethoney (1257) and Renaud Lajoie (1307) tied for 4th place with 3.5 points, earning them $83 each.
U1200 Scholastic Section
With 43 up and coming young players, the Scholastic/U1200section was the largest section in the tournament. Sanil Ande (1020) won the clear first place in the section and a $250 prize. Congratulations to Sanil, who was also the only player in the entire tournament to win all five games!
Five players finished with 4 points: Aidan Stinson (1091), Ayush Roy (940), Coco Yao (920), Yiwen Lu (899) and Nelson Zhao (846). Each of them received $50 for 2nd place/U1000 prize. Six players also shared the U800 prize and received $14 each.
Mixed Doubles Prize
Mixed doubles prizes were also awarded to the top two male/female tandem. Congratulations to the team of Jerry & Coco Yao who took first place with a combined score of 6.5 points winning them $83 each. Three teams finished in a tie for second place with 6 points earning each of the six players $14.
Saturday Night Blitz
Saturday night featured a 4 round, double-round blitz tournament. Six players competed in the side event. Congratulations to Vincent Stone (1892)who won first place and $50 with a 5/6 score. FM Dalton Perrine (2262) score 4.5/6 to win second place and $30. Nicolas de Colina (1994) won 3rd place and $20.
Other Notes
FM Alex Zelner (2344) give an entertaining lecture on Saturday morning about the Four Knights Game. Thank you also to FM Alex and Dr. Catherine Zelner who also provided a nice selection of chess books and merchandise for sale for the weekend. Besides an unscheduled fire drill late in the 4th round, the tournament went by smoothly thanks to Steven Vigil, Harvey Lerman and Terrance Washington who served as Tournament Directors for this event.

CFCC's next weekend tournament, the 2020 Winter open will be also be at the Wyndam Orlando Resort on Jan 10-12. We hope to see you there!
-Steven Vigil, Chief Tournament Director